The Rice Lake Plains, one of the most intriguing areas on the Oak Ridges Moraine, is an area of roughly 100,000 acres (40,469 hectares) located at the eastern end of the moraine, southeast of Peterborough. Historically, The Rice Lake Plains were covered with tallgrass prairies and oak savanna, dominated by massive Black and White Oak, where grasses like Big Bluestem, Indian Grass and Switchgrass grew more than two metres high and a diverse range of wildflowers blossomed.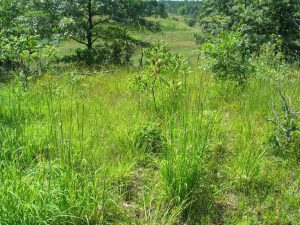 Today, the oak savanna and tallgrass prairie of the Rice Lake Plains are badly fragmented and overgrown with non-native species. Globally these habitats are rare, and oak savannas are considered among the most endangered ecological communities in North America. Grassland Birds and other rare species, including the Eastern Hog-nosed Snake, depend on this rare habitat to survive.
Fortunately, the stewards of the Rice Lake Plains, including private landowners, Alderville First Nation, conservation groups and governments, have taken care of the land. Pockets of natural prairie and savanna seedbed are still intact. Nature Conservancy of Canada (NCC) is collaborating with private landowners and conservation partners to help restore prairie and savanna in the Rice Lake Plains under the Rice Lake Plains Partnership (RLPP). You can learn more about the Partners here.
Cultural history also abounds on the Rice Lake Plains with links to early pioneer woman and writer Catherine Parr Traill, renowned biologist John Macoun and Canadian poet Archibald Lampman.
History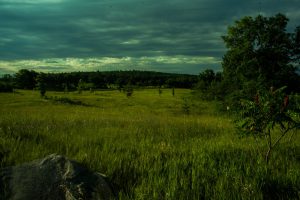 To understand why the Rice Lake Plains area is so significant, not only at the local level, but at a truly global level, one must reflect back on the ecological history of this area. The ecosystems we have here today are a product of the last glacial movement that occurred 13,000 years ago. As the climate warmed and the glaciers retreated, the ice divided into two lobes, forming a distinct crack. It was in this crack that giant accumulations of till, stratified silt, sand and gravel were deposited, creating a contiguous ridge of 160 km from the Niagara Escarpment to the southern shores of Rice Lake. This ridge is known as the Oak Ridges Moraine (ORM) and is recognized as a provincially significant physiographic feature, up to 200 meters thick and 300 meters above Lake Ontario; providing clean groundwater for over 60 streams and rivers, which in turn is used by more than 200,000 people.