A number of exquisite flowers and shrubs adorn these plains, which rival any garden in beauty. The trees, too, though inferior in size to those in the forests, are more picturesque, growing in groups or singly, at considerable intervals, giving a sort of park like appearance.Catherine Parr Traill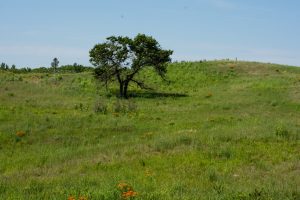 The Rice Lakes Plains of Northumberland County are known for their tallgrass prairie and oak savanna habitats. These unique ecosystems thrive in dry, sandy conditions found in the Oak Ridges Moraine. The Rice Lake Plains is home to Canada's easternmost prairie and is now the focus of a multi-partner conservation and stewardship project, known as the Rice Lake Plains Partnership. You can help by attending events as well as telling us your story about the Rice Lake Plains via Facebook or Instagram.
In 2002, Nature Conservancy Canada (NCC) set out to preserve and restore the rare ecosystem of the Rice Lake Plains. During NCC's mission to promote long-term sustainability of this ~40,000 ha area, they proposed a joint initiative be created with numerous partners. The partners, collectively known as "the Parties" include Alderville First Nation, the County of Northumberland, Ganaraska Region Conservation Authority, Lower Trent Region Conservation Authority, the Nature Conservancy of Canada, Northumberland Land Trust and Ontario Parks. Learn more about us.
As part of the partnership, we all share a common vision: of a landscape of protected, restored and sustainably managed tallgrass prairie and oak savanna ecosystems amid well-stewarded farmland, forest, wetland and riparian habitats of the Rice Lake Plains region. We are committed to being good neighbours in the community and to actively caring for our lands as a contribution towards a sustainable future.