HARWOOD — With a passion for saving the eastern blue bird, Harwood resident Hazel Bird spent countless hours roaming the Rice Lake Plains checking the nest-boxes she built.
Now the public is welcome to walk the trail Ms. Bird once did at The Nature Conservancy of Canada's Hazel Bird Nature Reserve. Ms. Bird died in 2009 and the piece of land she once spent so much time on was acquired by the Nature Conservancy of Canada in 2011. Volunteers worked to restore and protect the property's tallgrass prairie, sand barren, oak woodland and black oak savanna habitats, which are native to the Rice Lake Plains.
The new four-kilometre loop trail, located at 4639 Robson Road, south of Harwood, officially opened on Oct. 8. The conservancy owns 2,000 acres of land in Northumberland County's Rice Lake Plains but the 290 acres in Hazel Bird Nature Reserve will be a place the public can visit, said Todd Farrell, co-ordinator, conservation biology for the Nature Conservancy of Canada.
"It is a showcase of everything about the property," said Mr. Farrell.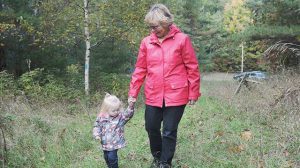 The conservancy aims to help people value and experience nature through properties such as the Hazel Bird Nature Reserve, said Mark Stabb, program director for Central Ontario, "With this trail we are welcoming visitors to explore the tallgrass habitats of this special place, and helping them to become better connected to our habitat conservation and restoration efforts. We hope to build a growing network of volunteers committed to restoring tallgrass prairie and oak savanna here and across the Rice Lake Plains," said Mr. Stabb.
The trail opened with support from the Friends of the Greenbelt Foundation and the Oak Ridges Trail Association. Hazel Bird family members, including her daughter Loxi Street and son Randy Bird, attended the trail opening. In the late 1960s, Ms. Bird, a mother of seven, was concerned about the loss of eastern bluebird habitat and built the nest-boxes for the area, said Ms. Street. She recalls her mother checking the boxes regularly.
"My kids grew up hiking with Grandma here, checking the boxes," said Ms. Street.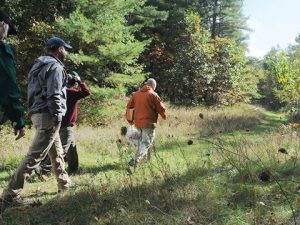 With the help of the Willow Beach Field Naturalists, nearly 425 boxes were built and checked regularly for almost 40 years. The Rice Lake Plains is a roughly 100,000-acre (40,470-hectare) landscape located at the eastern end of the Oak Ridges Moraine, southeast of Peterborough. Globally, these habitats are rare, and oak savannas are considered among the most endangered ecological communities in North America. Grassland birds and other rare species depend on this rare habitat to survive. The Rice Lake Plains represents the easternmost arm of Ontario's Greenbelt.
To date, the nature conservancy and its partners have conserved over 1,920 acres (777 hectares) of significant habitat on Rice Lake Plains.
Karen Longwell
Photographer/reporter
Northumberland News